SOURCE: Article written by Carlos Ramirez.
Have you ever seen one of those GG Allin or Milo bobblehead-looking models and wondered who was behind them? Well, that's the exact kind of stuff that goes through my trivia-obsessed mind on a daily basis.
Aggronautix is the company behind the popular Throbbleheads collection, which at this point has released collectible figures from such punk and metal musicians as the aforementioned GG and Milo, plus Bobby Liebling (Pentagram), Keith Morris (Circle Jerks, OFF!), and Jello Biafra (Dead Kennedys), among other larger-than-life musical figures (pun not intended).
Clint Weiler is the fellow music obsessive who founded Aggronautix, and I decided it was about time I picked his brain about the enterprise.
I guess the first place we should start is by learning a bit about you. 
I was born (1978) and raised in the small old steel town of Birdsboro, PA… I think the population is around 6k. These days I reside in Phoenixville, which is another steel town in the greater Philadelphia area but is roughly 12k in population. Phoenixville has alot to offer for a small town with events such as Blobfest (a portion of the movie The Blob was filmed here) and the Firebird Festival (a winter solstice festival that culminates in the burning of a giant 30′ wooden phoenix). Also, a new study ranks Phoenixville 10th nationally for most breweries per 50k people. The author writes, "Expect Phoenixville to become the next major beer destination on the East Coast." It's a pretty cool town in general… Lots of good food, drink, art, music, etc.
When and how did you get into the heavier/crazier side of the music spectrum?
The first tape I ever bought with my own money was Living Colour Vivid (released on May 3, 1988 – I was just 9 years old). Their debut single, "Cult of Personality," is a riff heavy metal classic that absolutely mesmerized me as a child. From there, I latched on to hip-hop with Public Enemy's "Don't Believe the Hype" single coming out around the same time. I discovered the sound by accident and heard the completely unique "creaky door" beat on Philly's Power 99 FM while messing around with the radio. Ever since then I've been a lover of all music, but I confess my true loves are punk and hip-hop.
When did Aggronautix officially start? 
2009, but it should be noted that I have been working in the music industry since 2001.
How did the idea for the Throbbleheads line come to you?
At first, I wanted to make a GG Allin designer vinyl toy but it was just too expensive, so I settled for a bobblehead… Or "Throbblehead" as I branded it. I was working publicity for all of these legendary punk bands and I felt they deserved to be "immortalized" so that's when the idea of a complete line of figures came about.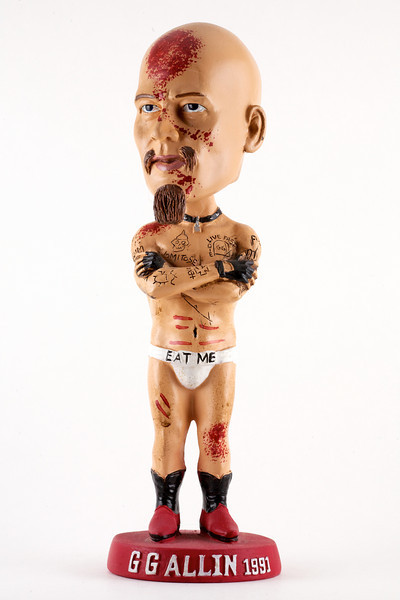 Can you walk us through the Throbblehead process? 
I have a whole team of artists who help create the figure and I have the artist (or management) proof every step of the way.
Conceive the look – I'll work with the artist to figure out what era / look we want to portray.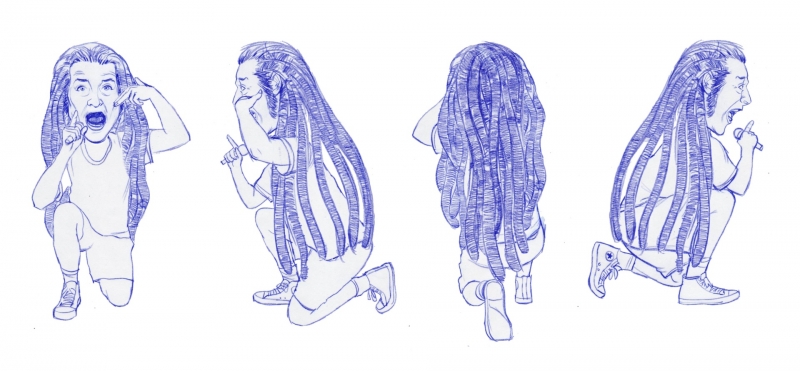 Turnaround illustration – I have my illustrator Craig Holloway (Austin, TX) do a turnaround sketch.
Sculpt – I have the sculptor create a mold based on the illustration and hi-res photos of the facial features.
Painted Mold – The clay mold is painted and proofed.
Box art – My graphic artist Marco Palumbo (London UK) creates the box.
Of all the Throbbleheads you've done to date, which one took the longest to go from idea to market? 
Fat Mike. Because my factory fucked up the boxes and the new ones still aren't here… Are you listening, factory?! Fuck you!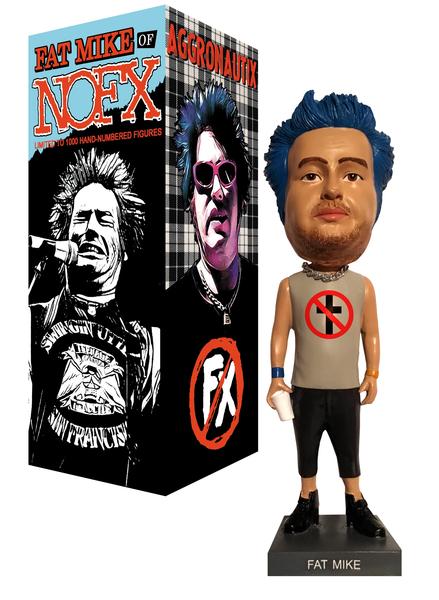 Have you had any musicians pass on the idea? 
Oh, heavens yes! I don't really want to call any of them out because some of them I remain in contact with… They just weren't into the idea and I can respect that.
I'm sure you have a working wishlist of musicians you would like to immortalize.
I'd really like to do more Double Throbbleheads a la Dwarves… Just to name a few: Dead Boys, Buzzcocks, X, etc. As for singles, I am open to suggestions. I love to hear people get fired up about who they'd like to see made into a Throbblehead.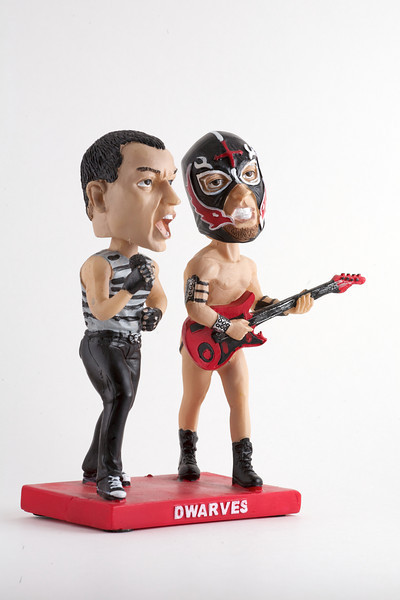 What are some of the other items Aggronautix has manufactured through the years?
The biggest and most ambitious endevour was producing a film called Bath Salt Zombies. It came out really good because Dustin Wayde Mills is a true professional of his craft. He took my loose story line and created a film around it. We started working on a sequel but the hard drive it was on got fried and he was sorta uninspired after that. Anyway, both films have a mean-ass soundtrack. I considered releasing BSZ2 soundtrack without releasing the film but that's not gonna happen.
Outside of Aggronautix, you're also the PR and Marketing Director of MVD Entertainment Group, an indie music and film distributor. Tell me a bit about that.
Since 2001 I've been working for MVD Entertainment Group based in Pottstown, PA (yet another small town with a once booming industrial presence). Currently my title is Director of Publicity, Marketing, & Merch Development. This gig has given me incredible opportunities and I've very fortunate to be the position of working with amazing companies like Arrow Video, AGFA, Bear Family Records, DraftHouse Films, FilmRise, and many many more.
If you had to pick your favorite highlight since you've started Aggronautix, what would that be and why?
Presenting Roky Erikson with the prototype of his figure at SXSW 2011 was something I'll never forget, and there's video of it. Aside from that, the Handsome Dick Manitoba release party at his bar Manitoba's in the Lower East Side was pretty epic. I drove 500 Throbbleheads in the back of my Honda Element two hours north to NYC and that night he signed each doll he sold, and also gave away a free White Castle cheeseburger with every purchase. How can you beat that?! It would be great to have a 10-year anniversary party and have a bunch of the bands I worked with play, but I don't want to put the cart before the horse.
***
Head to Aggronautix's official website to see all of the goods.
OTHER AGGRONAUTIX ARTICLES:
https://mvd.cloud/press/AGGRO/PRESS/ALTERNATIVE_PRESS_feature.pdf
https://mvd.cloud/press/AGGRO/PRESS/New_Noise_feature.jpg
https://mvd.cloud/press/AGGRO/PRESS/BILLBOARD_Manitoba_party.pdf
https://mvd.cloud/press/AGGRO/PRESS/PHILLY.COM_vendor_feature.jpg